Extra Small (<768px)
Small (≥768px)
Medium (≥992px)
Large (≥1200px)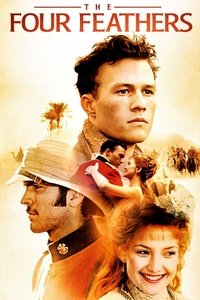 The Four Feathers (2002)
Release: 08 September 2002
Freedom. Country. Honor. Passion. To save his best friend, one man must risk everything he loves.
Summary
The story, set in 1885, follows a British officer (Heath Ledger) who resigns his post when he learns of his regiment's plan to ship out to the Sudan for the conflict with the Mahdi. His friends and fiancée send him four white feathers which symbolize cowardice. To redeem his honor he disguises himself as an Arab and secretly saves the lives of those who branded him a coward.
Facts
Status
: Released
Budget
: $35 million
Revenue
: $30 million
Runtime
: 132 mins
Original Language
: English
Genres
War
Drama
Romance
Action
Adventure
Production Countries
United Kingdom
United States of America
Tags
Islam
Loyalty
Bravery
British empire
Sudan
Army
Revenge
Honor
Murder
Escape
Seen It
United Kingdom (9 years ago)
"
A good and original story.
"
My rating:
(5/5)