Extra Small (<768px)
Small (≥768px)
Medium (≥992px)
Large (≥1200px)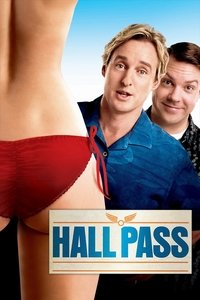 Hall Pass (2011)
Release: 25 February 2011
One week. No rules.
Summary
When best buds Rick and Fred begin to show signs of restlessness at home, their wives take a bold approach to revitalize their marriages, they grant the guys a 'hall pass'—one week of freedom to do whatever they want. At first, it seems like a dream come true, but they quickly discover that their expectations of the single life—and themselves—are completely and hilariously out of sync with reality.
Facts
Status
: Released
Budget
: $36 million
Revenue
: $86 million
Runtime
: 105 mins
Original Language
: English
Tags
Husband wife relationship
Daydream
Marriage
Freedom
Friends
Seen It
United Kingdom (9 years ago)
My rating:
(4/5)
United Kingdom (10 years ago)
"
Cheap laughs, cheap story, inevitable ending but some funny moments on the way.
"
My rating:
(4/5)